EDGE App
The free EDGE software offers a measurable way to cut back on the resource intensity of your building design.
The features of the EDGE App
Bio-Climatic Modeling
EDGE is a location-specific, with climate and lifestyle data for thousands of cities around the world.
Cost Calculator
EDGE helps you to decide the best green options, estimating the incremental costs of building green and payback period through estimated utility savings.
Streamlined Certification Process
EDGE simplifies the certification workflow, allowing you to upload compliance documentation directly into the EDGE App.
Reporting
EDGE can be used for environmental and impact reporting on carbon emissions reduction, energy and water savings.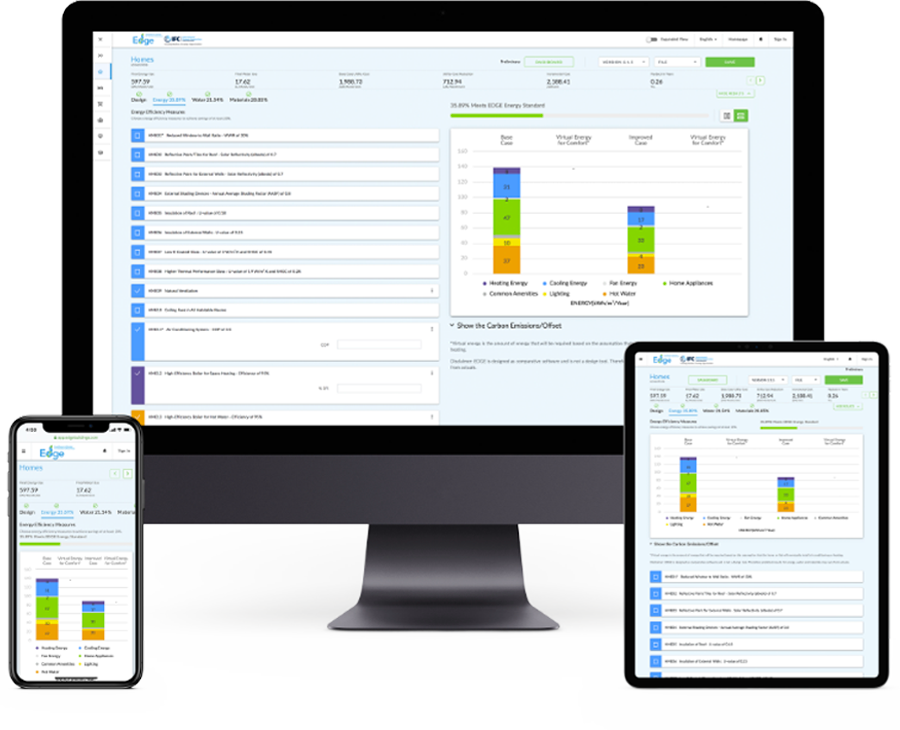 Begin using the EDGE App today.
1: Become a user of the free EDGE App
2: Design your building
Discover the best green building strategies to reduce the energy, water, and embodied energy of your building, while staying within budget.
3: Meet the EDGE standard
Meet the standard of at least 20 percent savings in the categories of energy, water, and embodied energy in materials compared to a conventional building to qualify for certification.
4: Register and certify
Register and certify your project through the EDGE App.
Watch our EDGE App demo videos to learn more.
EDGE by Grupo IKON: Creating Customer Value

Grupo IKON is disrupting the real estate sector in Mexico with residential projects such as Zivalam in Cancun. Co-founder and managing partner Sergio Ramos believes that profit is not everything.

EDGE in Nigeria: A Proof of Concept for Mass Housing

Leaders in the property sector are working to prove the concept that it is possible for mass housing to be built in Nigeria with affordable green homes.
Interested in learning
more about EDGE?
Sign-Up for our Mailing Lists