EDGE Champions Summit 2022
November 2022 - The first EDGE Champions Summit was held in Washington DC on November 2 and 3rd, 2023 at the International Finance Corporation (IFC) headquarters.
Thirteen Champions from Africa and Latin America attended the in-person event. EDGE Champions are companies who collaborate with IFC to accelerate the adoption of green building options in their respective markets. These trailblazers typically pledge to certify a significant portion of their building portfolio, or meet a minimum floor area commitment, to be certified as a green building with EDGE.
#EDGEChampions #EDGEBuildings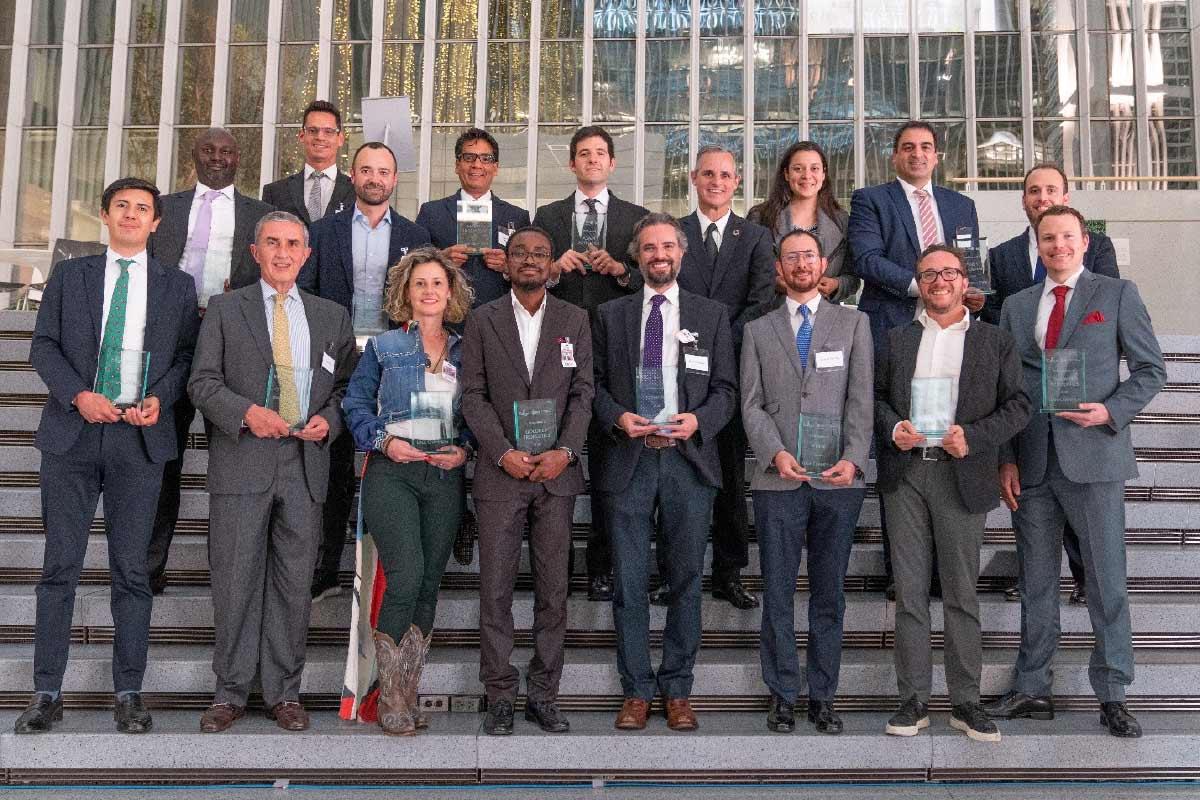 November 2
On November 2, the EDGE Champions were welcomed to the event by Corinne Figueredo, the EDGE Global Head of Operations. She then introduced Vivek Pathak, IFC's Global Head and Director of Climate Business, who discussed the importance of green finance, the strategies to scale it up, and the investment opportunities in climate business. He discussed the five key systems responsible for over 90% of global greenhouse gas emissions: energy; agriculture, food, water and land; cities; transport; and manufacturing. Following these insights, the attendees then participated in an important roundtable discussion which provided the Global EDGE team with important insights and feedback from their respective markets. The afternoon was closed out by Ommid Saberi, the Global Technical Lead for the EDGE program, who discussed the past, present and future of the EDGE program. He also touched on the important progress the program has made in Colombia.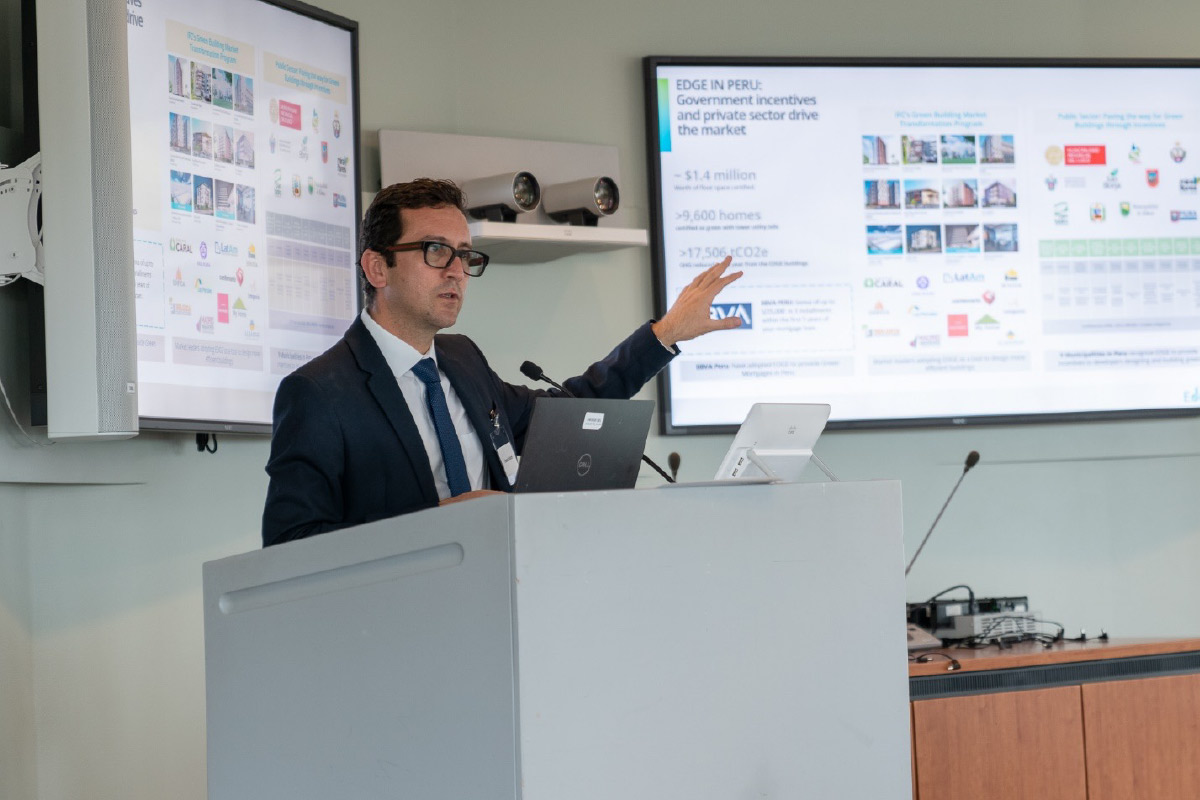 Official Recognition Ceremony
In the evening, the EDGE Champions made their way to the World Bank headquarters in Washington DC for the official recognition ceremony. These Champions were accompanied by a large IFC team, which included representatives from the EDGE program, IFC investment officers and an IFC senior climate manager and director. During the evening's proceeding, each Champion who attended was welcomed to the stage by Corinne Figueredo and Vivek Pathak to receive their glass trophy. The evening ended with a large procession to the atrium space of the MC building.
The Final Day
The final day, November 3rd, was comprised of presentations from Finance, Infrastructure, and MAS industry leaders who spoke about each of IFC's key investment areas. These presentations were followed by private meetings arranged with the various departments within IFC. Ommid Saberi closed the Summit, highlighting the importance of the Champions to the EDGE strategic direction and future goals.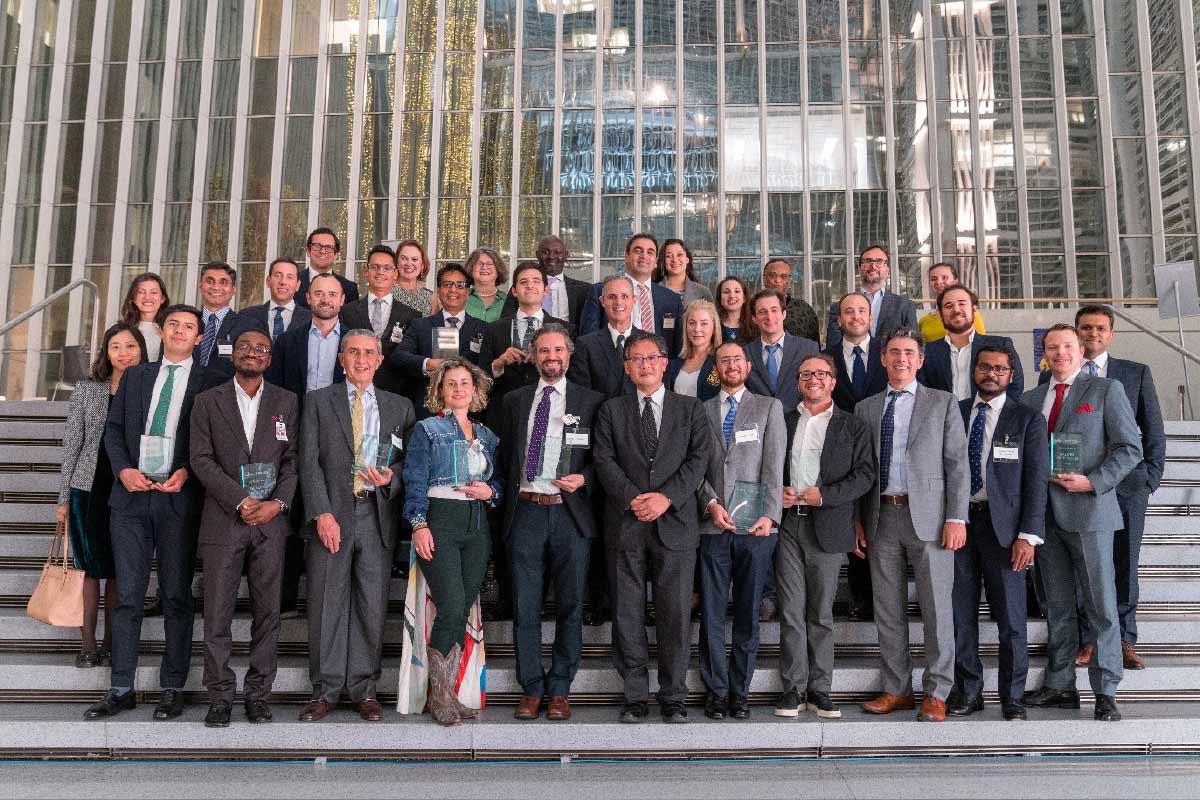 EDGE expresses its appreciation for the following national donors for their generous support: UK Government; the State Secretariat for Economic Affairs of Switzerland (SECO); the European Union; the Ministry of Finance of Japan; the Hungarian Export Import Bank; the Canada Climate Change Program and the Department of Foreign Affairs, Trade and Development Canada; the Royal Ministry of Foreign Affairs of Denmark and the Danish Green Growth Fund; the Federal Ministry of Finance of Austria; and the Ministry of Foreign Affairs of Finland. EDGE is also grateful for contributors to the GEF-IFC Earth Fund Platform, and the Energy Sector Management Assistance Program of the World Bank whose support helped seed EDGE.

The Government of the United Kingdom has entered into a partnership with IFC to help transform construction markets. The objective is to crowd in as much as $2 billion in public and private sector financing for green buildings in emerging markets that are certified by EDGE and other leading certification systems. The British Government has contributed 105 million pounds, of which 80 million pounds is for investments through the U.K.-IFC Market Accelerator for Green Construction Program, and 25 million pounds is for advisory services, including significant support for EDGE.
A full list of the champions who attended and recognized, as well as their company representatives, can be found here. Vivek Pathak was in attendance to award all the Champions.
Executive Director of Japan, Takashi Miyahara

The champion's awards dinner was also attended by the Executive Director of Japan, Takashi Miyahara. Japan joined the World Bank Group on August 13, 1952, and since then it has strengthened its status as a creditor in the 1970s. The Ministry of Finance of Japan is a key donor to the EDGE program, and EDGE was honored to have him in attendance.

Fibra Maquarie, Mexico

Simon Hanna CEO
Andrew McDonald-Hughes CFO
FIBRA Macquarie has established one of the largest portfolios of industrial and retail real estate in the Mexican market. In only one year after they committed certifying.

Fibra Uno, Mexico

Karen Mora, Sustainability Director
FIBRA Uno is the first and largest Mexican REIT. It operates and develops a wide range of real estate assets for leasing mainly in the industrial, retail and office segments. FUNO has certified one of the largest mixed projects in Mexico City known as Mitkikah.

Goldkey Properties, Ghana

Alexander Dordor – Commercial Director
Goldkey Properties has been developing award-winning quality residential, commercial and mixed-use spaces in Accra, Ghana. They have been an EDGE Champion since 2022. Goldkey has certified two office buildings (EY tower and PWC tower) in Accra and has pledged their entire portfolio of commercial buildings, residential and student accommodation to be EDGE certified.

Banco Davivienda, Colombia

Camilo Alban – Vice President for Developers and Mortgages
With more than 19 million customers, Banco Davivienda is the second largest bank in Colombia. The bank has financed 52 EDGE certified projects with a floorspace of over 800,000 m2. Davivienda has been an EDGE Champion since 2020.

Vinte, Mexico

Gonzalo Pizzuto – Manager of Investor Relations
Vinte is a housing developer focused on offering comprehensive sustainable communities. Between 2019 and 2022, Vinte has certified 8,299 EDGE homes, including 841 EDGE Advanced. Their company is also a Zero Carbon Pledger.

Balwin, South Africa

Matthew Whalley – Director and Green Innovation Manager
Balwin Properties is a listed company with more than two decades' experience in the South African property industry. Since 1996, Balwin has been designing, building, marketing and selling secure, affordable, high-quality, environmentally-friendly sectional title residential apartments. They have been an EDGE Champion since 2019, and have the largest portfolio of EDGE certified buildings worldwide.

Plaza Logistica, Argentina

Sergio Cohen – Corporate Finance Manager
Plaza Logistica is a developer and operator of logistic parks focused on offering its clients a cutting-edge format under the highest international standards of quality, safety and sustainability. They are the first Champions in Argentina and the largest client in the country having certified close to 400,000 m2 in floorspace. They have been an EDGE Champion since 2021.

AshmoreAVENIDA, Latin America

Oscar Ardila – Institutional Business Development, Real Estate Executive
AshmoreAVENIDA is an operator of a private equity real estate investment firm focused on the development of retail, residential and mixed-use assets in emerging markets. They have been an EDGE Champion since 2021 and they are also a Zero Carbon Pledger.

Constructora Bolivar, Colombia

Alejandra Robledo – Vice President of Sustainability
Constructora Bolivar have been a leader in the construction sector in the real estate field for more than 60 years. Given the floorspace the company builds annually, Constructora Bolivar is considered the largest developer in the country. They have certified over 2 million of m2 in floorspace. They were the first developer in becoming an EDGE Champion in Colombia.

COMVIVE, Mexico

Inigo Orvañanos – CEO
Ruben Cors – Chief Strategist & Sustainability Officer
Alberto Saavedra, Chairman of the Board
Founded in 2014, COMVIVE has offered affordable and middle-class housing solutions in communities considering economic, environmental and social sustainability aligned to the United Nations Sustainable Development Goals. They have been an EDGE Champion since 2021 and they are also a Zero Carbon Pledger, planning to certify all projects zero carbon by 2030.

Madrid Inmobiliaria, Peru

Cesar Madrid Zagazeta – CEO
Madrid Inmobiliaria is a Peruvian construction company in various affordability classes, with a wide portfolio of homes throughout Peru's capital. Madrid Inmobiliaria was the first developer to certify a housing project with EDGE in Peru and is currently certifying 100% of its projects with EDGE. They have been an EDGE Champion since 2020.

Constructora Capital, Colombia

Pablo Echeverri, President
Constructora Capital develops housing projects seeking to offer a comprehensive vision of sustainable development, placing clients as a fundamental priority in its operation. They have certified 25 projects with a total of over 1 million of certified floorspace. They are a Champion since 2021.

CANADEVI, Mexico

Yuri Zagorin
CANADEVI is the Mexico's National Chamber of the Housing Development and Promotion Industry. The Association is committed to promoting EDGE amongst its members and has so far organized dozens of trainings and meetings with potential certifiers. They have been a Champion since 2021.

HC Capital Properties, Cote D'Ivoire

Cheick Sanankoua, Managing Director
HC Capital Properties ("HCCP") is a privately held investment and development company in the real estate sector with a focus on West & Central Africa. HC Capital catalyzed the green bond market in Francophone Africa by having the first green bond issuance in Cote D'Ivoire for refinancing their Cosmos Yopougon Mall
Interested in learning
more about EDGE?
Sign-Up for our Mailing Lists