EMBODIED CARBON IN EDGE – A More Holistic View of a Material's Environmental Impact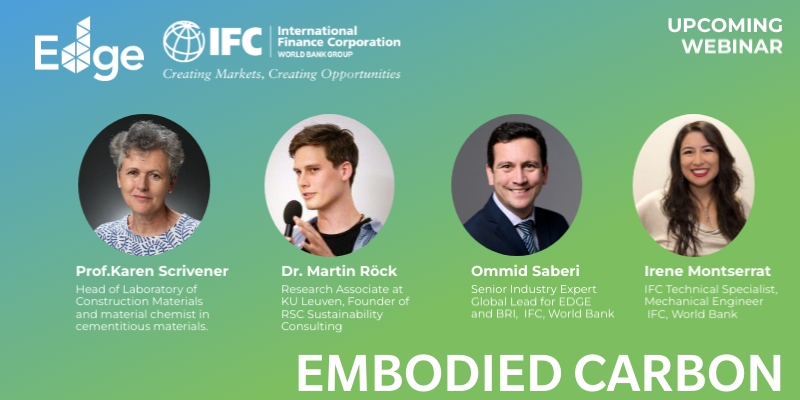 As the EDGE app is continuously evolving, the methodology for materials has changed. The application has moved away from embodied energy as an indicator on the EDGE Materials category to embodied carbon as the numeric indicator. Embodied carbon will be expressed as kgCO2e/m2 (of useful internal floor area). This change will help EDGE projects to disclose relevant indicators to taxonomies or other international standards and frameworks.
With these new capabilities, we invite you to join us for a technical webinar focused featuring Karen Louise Scrivener, a renowned material chemist and expert in embodied energy in materials. Karen is the Head of the Laboratory of Construction Materials at Ecole Polytechnique Fédérale de Lausanne and has a rich academic and professional background in cementitious materials.
During this session, we will dive into the significance of embodied carbon in materials, exploring its implications for sustainability and the environment. Karen Scrivener's extensive career journey, from her education at Cambridge University to her roles at Imperial College London and Lafarge's Central Research Laboratory, leading to her current position as a Full Professor at EPFL, provides a valuable context for our discussion.
Additionally, we will showcase the capabilities of EDGE, a software platform designed for assessing embodied carbon in materials, through a demonstration by our technical specialist, Irene Montserrat.
Join us for this technical exploration of embodied carbon and discover how EDGE can revolutionize its measurement and management of construction materials.
Interested in learning
more about EDGE?
Sign-Up for our Mailing Lists