IFC EDGE Pre-EAPI Summit Webinar: Green Bonds, Listings & More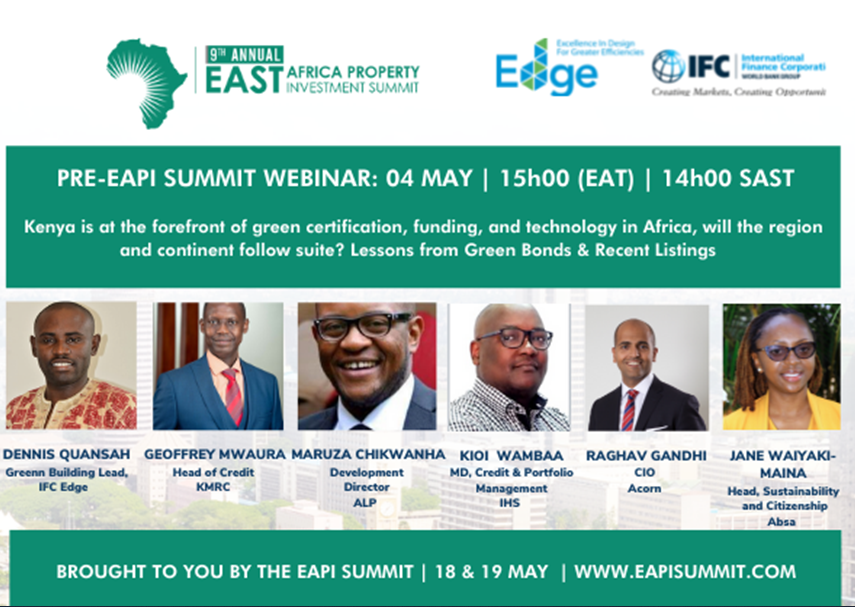 GET THE #EAPI2022 CONVERSATION STARTED!
Join EAPI Summit Green Building Sponsor IFC EDGE on 04 May at 15h00 EAT (14h00 SAST) for this pre-Summit discussion: Kenya at the forefront of green certification, funding and in Africa, will the region and continent follow suite? Lessons from Green bonds and recent listings.
Our expert panel features the IFC Edge's Dennis Quansah, KRMC's Geoffrey Mwaura, ALP's Maruza Chikwanha, IHS' Koi Wambaa, Acorn's Raghav Gandhi and Absa's Jane Waiyaki-Maina.
This discussion is proudly brought to you by the EAPI Summit & IFC EDGE
Join us on 18 & 19 May live from Nairobi.
Event Details
May 4, 2022 - May 4, 2022
3:00 pm - 4:30 pm EAT (14h00 - 15h30 SAST)
Back to Events
Interested in learning
more about EDGE?
Sign-Up for our Mailing Lists