Argentina Football Club Makes History with Green Stadium
How a community of football fans embraced green practices and sustainability as their local club entered a new chapter playing in the first EDGE-certified stadium in the world.
Sarah Santucci
January 20, 2022
5-min read
"We took the risk, we worked hard, and we did it." Simple words from Mr. Juan Prates, former finance secretary and current senior vice president of the Estudiantes de La Plata Football Club in La Plata, Argentina. The task itself was far from simple. Faced with honoring the longstanding local history of the Dr. Jorge Luis Hirschi Stadium while bringing the property into the 21st century, the club partnered with sustainability consultants to build a modern, green, resource-efficient beacon for Estudiantes supporters to convene.
"Juan Sebastián Verón, president of the club during the project, had the vision of how our stadium should be–not only a building, a whole concept of a new experience for fans and for the local community," Prates explains. "Under that modern vision, we knew that sustainability, technology and fan experience were our main targets."
Since completion of the rebuilding and renovation in 2019, the first EDGE-certified stadium in the world has been considered a landmark for La Plata and a success story that is already serving as an influential example for stadiums throughout Latin America, where football is an essential part of life and culture.
A Stadium with a Story
First built in 1907, Hirschi Stadium has a over a century of history in La Plata, and the city's residents and football fans share a strong connection with the once-wooden arena. After decades of changes and renovations to the stands, which once held 28,000 spectators in mostly standing-room accommodations, the last match at the old stadium was played on August 28, 2005. Demolition and renovation would take place in the coming years, with a focus on creating not just a sports arena but a community promenade dedicated to energy efficiency, with restaurants, retail, and outdoor areas to gather.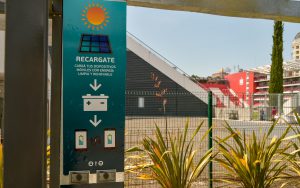 With political pressure to relocate the team to a new, more modern stadium recently built in La Plata and a limited budget to achieve the dream of rebuilding Hirschi, Prates and the Estudiantes team turned to sustainability consultants Green Group to bring the reimagined stadium to life. While many EDGE certified building projects enjoy government support in the form of tax incentives and other perks for going green, Estudiantes faced the project without such benefits. But Prates and the team were dedicated to resource-efficiency and worked with Green Group and the International Finance Corporation (IFC) to identify a tenable path forward. "With a huge budget, sustainability is easy," Prates says. "When you do not have that, it takes a lot of hard work to meet the standard."
Partnering with Green Group and working with IFC's climate business team, Estudiantes acquired $5 million in funding from Banco Itaú de Argentina and began the plan to re-build Hirschi at the forefront of resource-efficiency. As Mariana Woloszyn, International Finance Institutions Senior Officer for Banco Itaú explains:
Itaú is a pioneer in Latin America and the Caribbean in the adoption of the Green Loan Principles, which pushes us to expand green financial solutions in the country, offering our clients and partners high-quality renewable energy loans. In 2018, IFC granted Itaú Argentina a line to expand the financing of small and medium-sized companies (SMEs) and renewable energy and sustainability projects, certified under the Green Lending Principles. We are extremely proud to see this project come true through EDGE certification to Estudiantes de la Plata, an iconic and so loved by argentine people This partnership with IFC has also gained new chapters in Brazil , with the development of "Plano Empresário Verde", which will provide technical knowledge for developer and construction company clients that are interested in seizing opportunities through the certification of green buildings under EDGE. As a financial institution we are able to foster and contribute to mitigate the impacts from the construction sector. We believe in projects that focus on creating value for society, EDLP is an example to follow.
Green Group identified EDGE certification as the best path, as it analyzes energy use benchmarks at the local level and sets achievable goals for reduction in energy and water consumption, as well as embodied energy in materials. One of the primary goals? To succeed in reducing energy not only for the good of the environment but also to set a positive example for other stadiums to strive towards.
"We wanted to tell a story—we knew what we wanted to achieve with the stadium, both large and small, but mostly we wanted to tell the story and honor the history of the club. From the solar powered phone-charging stations to the recycling bins and waste tracking, to the solar hot water system for the maté—the goal was to bring technology and culture together." Juan Prates, SVP, Estudiantes de La Plata
Convergence of Technology and Culture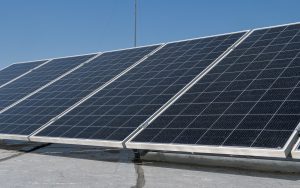 With the fulfillment of sustainable criteria and the blueprint for green construction courtesy of Green Group, EDGE and IFC, the club worked through years of construction to achieve their energy and water efficiency goals. Major measures included solar photovoltaics and wind energy systems throughout the building, helping to power the thousands of efficient LED lights, the abundant cell-phone charging stations, and the hot-water stations for making the maté tea popular throughout South America. A rainwater harvesting system embedded in the turf provides water to maintain the playing fields, and high-tech app tracks rubbish and waste to ensure it reaches recycling facilities following events.
Every aspect of the new stadium demonstrates the commitment to sustainability, one that the club hopes will serve as education for the community. Monitors throughout the stadium point to the sustainable measures taken to reduce the club's carbon footprint, and efforts have been made to recruit the local community to get involved. Following the inaugural match in the re-opened stadium, volunteers distributed bags to the 37,000 fans in attendance so they could take away their rubbish and keep the surrounding neighborhoods free of waste. Soon, the local community started to see not only the benefits of going green, but how achievable it is.
"Football is very important in Argentina. We wanted to change the way stadiums in Argentina are seen, to make people rethink how stadiums should be in the future, and educate them so they can see sustainability in action, as viable." Juan Prates, SVP Estudiantes de La Plata
The sustainable example set by the Hirschi stadium is already having an impact, with several other clubs throughout Argentina moving towards incorporating green measures in their stadiums, something Prates hopes will only continue. "We want to be a vision of how stadiums should be in Argentina."
To learn more about Dr. Jorge Luis Hirschi Stadium, the world's first EDGE certified sports stadium, visit the Estudiantes de La Plata website.
More Stories from EDGE.
Market transformation in action.
Interested in learning
more about EDGE?
Sign-Up for our Mailing Lists