EDGE-Certified Building Earns International Recognition
EDGE-Certified EcoHome Phuc Loi project, developed by Capital House, was awarded the Achievement in Transformational Infrastructure: Green Building by the Financial Times
Hayley Samu
June 11, 2018
3-min read
Vietnamese developer Capital House has proven that green does not always have to be expensive, while gaining global recognition for the benefits it is providing directly to its customers. Capital House has won the Achievement in Transformational Infrastructure: Green Buildings award at the annual FT/IFC Transformational Business Conference and Awards for their work on the EDGE-certified affordable social housing development, EcoHome Phuc Loi.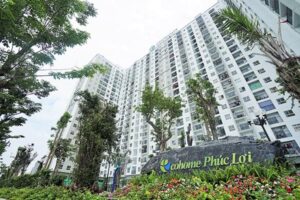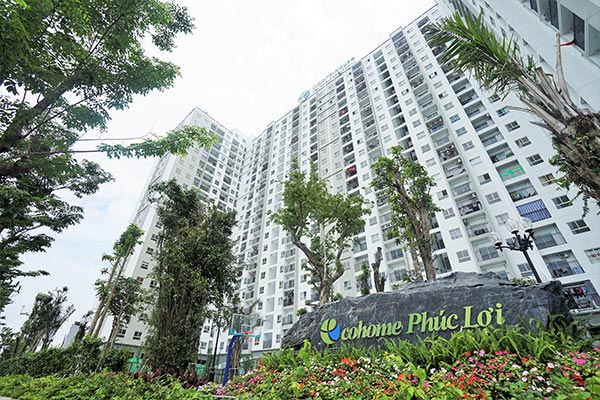 EcoHome Phuc Loi provides low-income housing to Vietnamese residents, proving green homes and a sustainable lifestyle can be attained by all, regardless of income. The units are projected to achieve up to 29 percent in energy savings and 30 percent in water savings with 39 percent less embodied energy in materials, all costing Capital House only an additional 1 percent in building expenses.
The ceremony and dinner, hosted jointly by the Financial Times and IFC, were held in London on June 6. Since 2014, the awards have recognized leaders in the private sector for their innovative solutions to addressing climate change, efforts to achieve the UN Sustainable Development Goals (SDGs) and the fight to end poverty. The award categories include technology, food and water, education, health, infrastructure, green buildings, climate and finance.
Each year a panel of judges represented by development institutions, universities and the private sector evaluate the contestants based on their ability to produce business solutions that increase impact and efficiencies.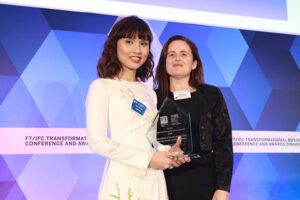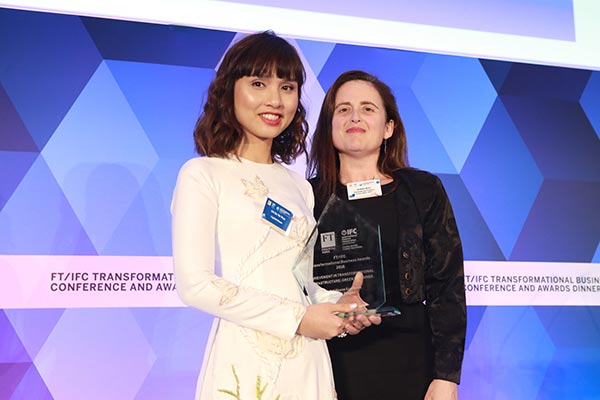 This year's panelists took notice of Capital House's ability to provide energy-efficient features for low-income residents. "The winner of this award has successfully integrated environmental considerations traditionally reserved for luxury buildings into a low-income housing segment," said the judges in a joint statement read during the event.
Capital House was pleased to earn the recognition of being the first Vietnamese company to win a Transformational Business Award. "Not very many developers in my country focus on green technology," said Do Thi Thuy Chi, Vice Chairwoman of Capital House, who accepted the award. "That's why we want to be the leaders in developing green architecture and energy-efficient buildings."
In addition to reducing impacts on the environment, Capital House also believes that building green has significant benefits for the residents themselves. Research shows that living in a green building reduces the cost of utility bills in addition to improving overall quality of life, including lowering the risk of respiratory diseases and depression. Capital House wants to make such a sustainable lifestyle possible for all, overcoming the perception that low-income residents are not able to afford green features in their homes.
Capital House also found that building green costs far less than one might expect. With only an additional 1 percent in building expenses, the company has paved the way for affordable green housing in Vietnam, encouraging other property developers to consider doing the same. At EcoHome Phuc Loi, all families can afford a sustainable lifestyle.
The social housing and low-income apartment complex contains 646 units within two high-rise towers in the Long Bien district of Hanoi. They are designed to maximize ventilation and natural light, and are outfitted with energy-saving lighting, solar panels, low-flow plumbing fixtures and in-situ reinforced concrete floors and roofs. The resource-efficient homes decrease utility bills for residents by a projection of 22 to 23 percent, depending on the type of unit.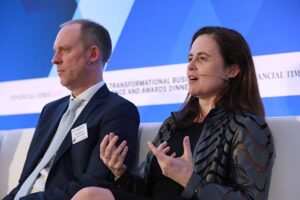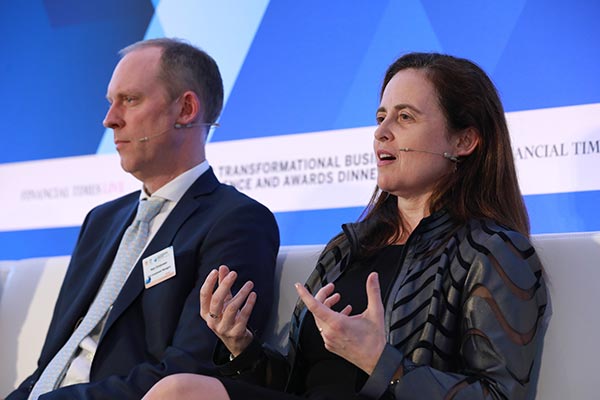 Of the contestants nominated for the award, Africa Building Partners' Mother and Baby Unit at the Komfo Anokye Teaching Hospital in Kumasi, which is another EDGE-certified building, was also nominated. The project has gained attention beyond Ghana's borders due to its role in replacing the life-threatening situation of a previous hospital and its strong advocacy from the First Lady of Ghana.
Capital House's remarkable achievements prove that emerging markets are making progress toward sustainable development while also helping to mitigate climate change.
"Emerging markets will not follow the path of developed markets in terms of climate emissions thanks to flourishing new technology," Said Alzbeta Klein, Director and Global Head of Climate Business at IFC.
With innovative solutions such as EDGE, building green will soon become the new normal for emerging markets like Vietnam.
More Stories from EDGE.
Market transformation in action.
Interested in learning
more about EDGE?
Sign-Up for our Mailing Lists