The Life-Saving Dynamic of Green Hospitals
With EDGE certification, hospital builders are realizing greater operational savings, ensuring patient comfort, and achieving a higher level of environmental responsibility.
Rebecca Menes
January 9, 2018
6-min read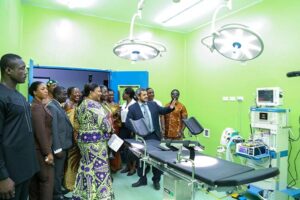 Hospital builders are discovering that resource efficiency leads to better patient care. Through eco-efficient solutions, energy and water consumption is reduced. Operational savings can be rechanneled into creating a more nurturing environment that improves the wellbeing of patients and can even saves lives.
For example, the Costa Rican Social Security Fund (CCSS) has built a pair of medical clinics in Belén that support Costa Rica's commitment to become carbon neutral by 2021. The Sede de EBAIS de La Ribera de Belén and Sede de EBAIS de Escobal de Belén facilities, which opened in October, offer general medicine, vaccination, and dentistry, with pharmacies at both locations. CCSS aspires to become a model public institution for its connection to communities and commitment to environmental performance.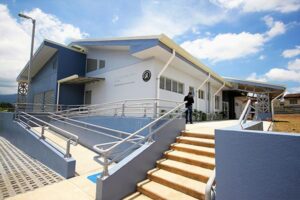 "Sustainable design has significantly improved the spatial quality of our facilities, increasing the comfort and overall satisfaction of patients and employees," said Paquita González Haug, Director of Administration for Special Projects at CCSS. "Our semi-open waiting areas and treatment rooms create a well-ventilated environment that makes a patient's stay more pleasant." González cites solar photovoltaics, rainwater harvesting, and locally-sourced construction materials with low environmental impacts as components of the clinics' designs.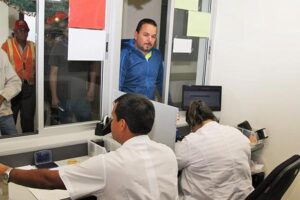 Anthony Bassim, the Chief Operating Officer of the Keserwan Medical Center located north of Beirut, ensured that his patients have a view of the sea as they recuperate. To avoid solar heat gain in peak periods, automated shading lowers to protect patients. The building envelope keeps rooms temperate, as walls are designed with greater thickness and windows have aluminum frames with thermal break and low-E coated glass. The hospital, which is the first green healthcare facility in the region, will expand to 170 beds.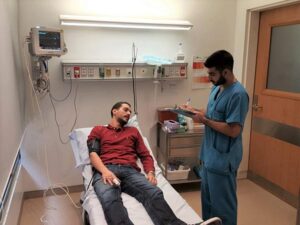 "When a visitor opens the window in a patient's room, it can be a surprise when a sensor turns the air conditioning system off," says Bassim of his facility, which is a private, multi-specialty teaching hospital affiliated with the renowned American University of Beirut Medical Center. "Such design functionalities are rarely built into medical facilities. Gradually patients and their families are becoming more aware, as they start to see the systems working."
Bassim worked with e-EcoSolutions on design strategies that dovetail well with operational controls that he put in place with a building management system (BMS) designed by Siemens. The BMS manages and measures the performance of an LED lighting system and an energy-efficient HVAC system. The use of water, a precious resource in Lebanon, is curtailed through low-flow plumbing devices and processed through a wastewater treatment plant.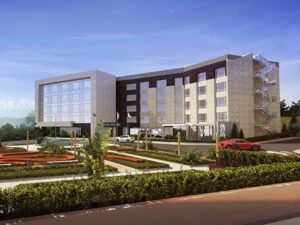 For the new Mother and Baby Unit (MBU) in Kumasi, green design is a matter of life and death. The old MBU at Komfo Anokye Teaching Hospital, which is the second largest hospital in Ghana, had an infant mortality rate of 19 to 25 percent, which translates to four to seven infant deaths per day. Conditions were precarious for mothers as well, with more than 100 dying each year. Rebecca Akufo-Addo, the First Lady of Ghana, helped raise funds through The Rebecca Foundation, entrusting Africa Building Partners (ABP) to propose a new facility to combat the crisis.
Eric Gené, the CEO and Founder of ABP, knew from his experience in developing green hospitals that the savings from reduced operational expenses could be funneled towards life-saving strategies. In the new MBU, solar technologies help to produce hot water and power the hospital, with energy-efficient lighting and air conditioning systems using that power more effectively. The building envelope is insulated against the sweltering outdoor temperatures, with small windows made of double-glazed, insulated glass. More birthing beds and theaters have been added to the ample building space, and babies no longer share incubators or cots. Sinks have been added to all birthing rooms for hand-washing purposes to help prevent cross-infections, which is not the case in the current facility in Kumasi.
"When it comes to hospitals, resource efficiency literally translates to saved lives," said Gené. "Lower operational costs, which are many times superior to savings in construction costs, free up cash flow to purchase better equipment and pay for the best medical professionals available. This results in a higher level of patient care."
Gené estimates the extra costs for the MBU's green design were about 10 percent in plumbing, 20 percent in electrical, and 10 percent in materials, or roughly 3 percent overall. The payback period will end after four months of operation. Keserwan's additional expenditures are 8 to 10 percent, which will drop to 5 to 6 percent when the second and third phases of the hospital are added (mostly due to the initial expenditure for the BMS). CCSR will recoup the extra costs to design their clinics green in less than six years.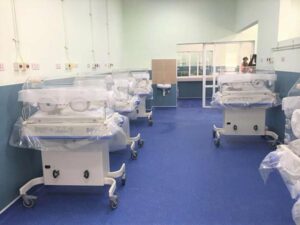 Green Building Council Costa Rica to achieve certification, choosing IFC's EDGE because of its tight focus on energy, water and embodied energy in materials. The free EDGE software was also critical in enabling CCSR to evaluate their designs, increasing their confidence to obtain certification. Gené chose EDGE because of the credibility of the World Bank Group's name, and plans to use the software even if his clients opt out of pursuing certification, to verify the projected efficiency of their selection of strategies. The new MBU has been certified by thinkstep-SGS.
Subsidies are offered by the Lebanese Central Bank for other international green building certifications in Lebanon, but Bassim still chose EDGE, as he felt it is most relevant to Lebanon. "With the problems that we have in our country, patients assumed we weren't even thinking about green for our hospital. It's a great source of pride and recognition for us. We want EDGE to be the standard everywhere."
More Stories from EDGE.
Market transformation in action.
Interested in learning
more about EDGE?
Sign-Up for our Mailing Lists