ProCredit Ukraine
Building a Path to Net Zero with EDGE Advanced
Michelle Farrell
Philipp Hlatky
September 13, 2023
5-min read
ProCredit Bank's Head Office in Kyiv, Ukraine, has used the EDGE Retrofit Protocol to become the first property in the country to achieve EDGE Advanced Green Building certification, qualifying the property as Net Zero Ready.
This accomplishment highlights ProCredit Bank's commitment to sustainability and signifies a bright and environmentally conscious future for Ukraine. ProCredit Bank Ukraine, a part of the international ProCredit group, has been providing financing to small and medium-sized Ukrainian enterprises since 2001. The Head Office, located in Kyiv and constructed in the 1980s, covers an area of over 2,500 square meters.
"When we started the green building certification process, we had no idea of the challenges to come."
Roman Makarov, Head of Environmental Management of ProCredit Ukraine
Background: The Green Building Market in Ukraine
The green building market in Ukraine has been slow to develop and faced challenges even before the ongoing Russo-Ukrainian War. While exact figures are hard to come by, a a a large percentage of building stock dates from the Soviet era, when speed of construction was prioritized over energy efficiency. Especially in the residential sector, many of these buildings were already extremely inefficient and in need of repair before the conflict.
The war has only exacerbated this situation and continues to take its toll on both the material and mental wellbeing of the people of Ukraine. Nearly 1.5 million homes have been destroyed during the war in Ukraine, with direct damages to buildings and infrastructure estimated to have reached $135 billion, according to the UN in June 2023.
Despite these challenges, there is potential for growth in the green building market in Ukraine, as the government continues to prioritize sustainability and energy efficiency. With a large amount of funding for reconstruction allocated to Ukraine by various international organizations and governments, stakeholders are focused on not only repairing or replacing damaged structures, but ensuring high-quality energy efficiency projects take their place. Buildings like the ProCredit office in Kiev stand as an example of the possibilities.
Sustainability Commitment
All of the banks belonging to the ProCredit group set high standards regarding the impact of their operations on the environment. The properties are required to implement Environmental Management Systems and adhere to strict guidelines when retrofitting or constructing new properties. Both Procredit's owned and leased properties are assessed for energy and resource efficiency. ProCredit institutions continuously monitor their own energy and resource consumption to identify opportunities to reduce their environmental impact and develop appropriate measures.  Having achieved EDGE Advanced certification, Procredit Bank Ukraine demonstrates their dedication to this commitment, and have gone beyond basic energy efficiency measures, with interventions such as LED lights and efficient insulation for walls. The property also installed photovoltaic systems, heat pump to produce hot water and the building management system (BMS) with numerous smart meters.to meet the EDGE Advanced standard.
The Journey to Green Retrofit
Recognizing the pressing need for energy efficiency and sustainability, ProCredit Bank Ukraine embarked on a major refurbishment project in 2016 as part of its environmental management strategy. With the team led by Roman Makarov, Head of Environmental Management, they began to assess the original building, which was an outdated and highly inefficient Soviet-era structure. To transform it into a modern, energy-efficient workspace, the bank undertook a comprehensive retrofit, including the replacement of the air conditioning system, installation of an efficient ventilation system with air humidification, thermal efficiency improvements to the heating system, and the installation of onsite solar photovoltaic systems.
ProCredit Bank's implementation of a Building Management System (BMS) enabled them to optimize energy usage and analyze electricity, heat, and water consumption. The BMS also allowed for remote data collection and management of engineering systems, constantly monitoring and optimizing their three buildings and four outlets in Ukraine, including self-service ATMs. The system features alerts that notify staff if energy or water usage goes out of range. In addition to incorporating water-efficient faucets, water closets, and landscaping, the bank provides sustainability training for all staff on saving water and energy, as well as covering their overall mission, green loans, and why they do not finance single-use plastics.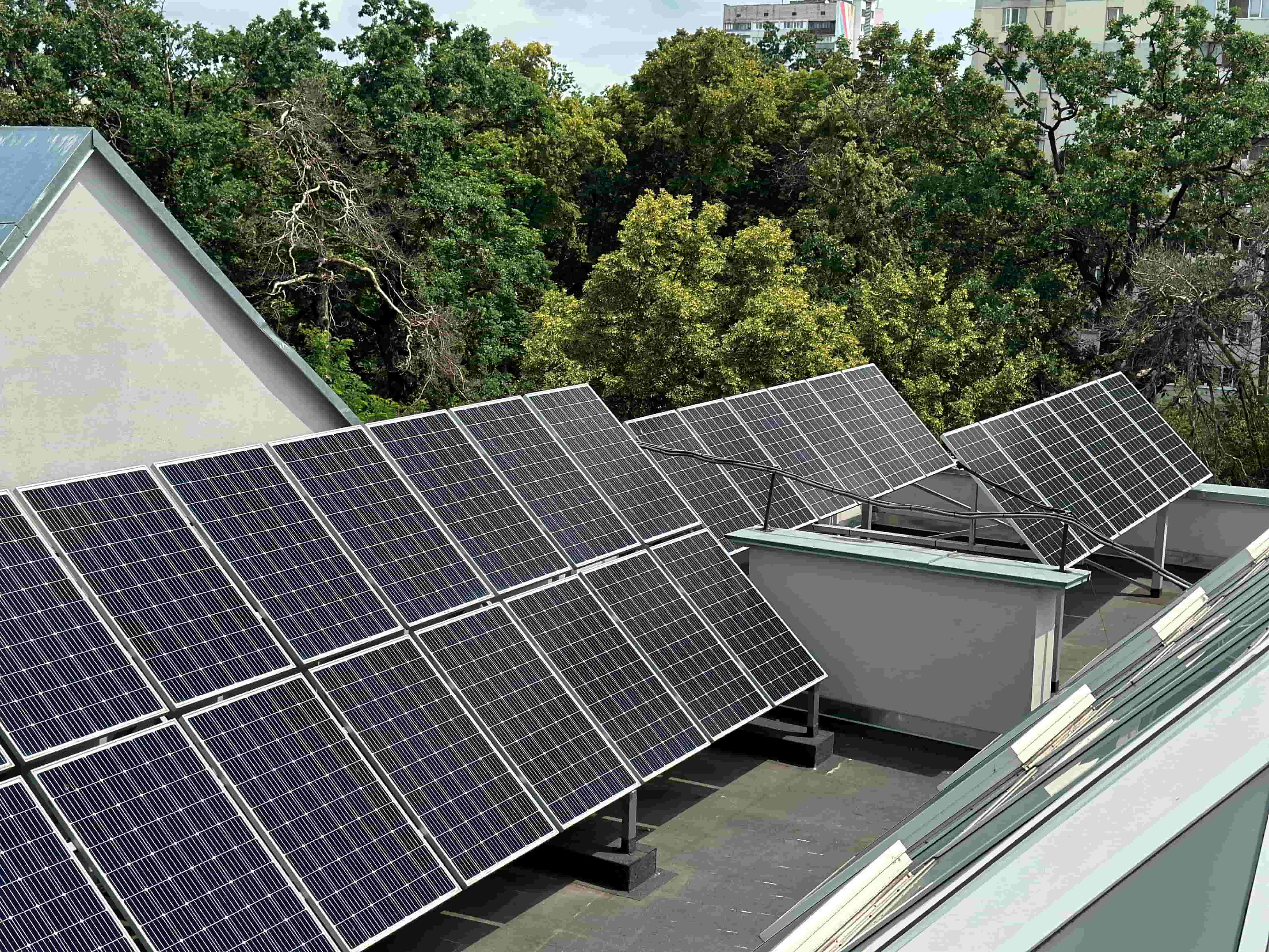 PV system installed on the roof of the HQ building
Following the successful refurbishment, ProCredit Bank sought third-party validation of their achievements through EDGE Advanced certification. ProCredit's certification process culminated in the Head Office achieving EDGE Advanced certification, with remarkable energy savings of 52%, water savings of 45%, and a substantial 86% reduction in embodied energy in materials. These achievements translate to an impressive annual reduction of 84 tons of CO2 emissions.
Navigating the Certification During Conflict
ProCredit Ukraine faced challenges during the certification process in relation to the Russo-Ukrainian War. Despite the difficult circumstances, the bank remained committed to sustainability and continued to support their clients. The conflict presented other logistical challenges, including power cuts and limited internet connectivity, which made data collection particularly challenging. They also had very little documentation about the existing building, which posed a challenge for obtaining EDGE certification. The team had to locate material suppliers and equipment manufacturers to gather all missing data and documentation for submission.
Additionally, the cold season and early spring posed major issues with reliable grid, causing delays in the process. In 2021 the bank's solar panels generated 14 MWh, covering up to 4% of yearly electricity consumption and fully covering electric car consumption. However, prices for utilities are increasing, making sustainability efforts even more crucial.
What's Next?
The ProCredit group aims to become carbon neutral within its own CO2 emissions by 2023 and has already achieved EDGE certification for its Head Offices in several countries such as Bulgaria, where the Head Office of ProCredit Bank Bulgaria is the first building in the ProCredit Group to achieve EDGE Zero Carbon certification. ProCredit Ukraine's certification aligns with these commitments and supports their sustainability goals. Furthermore, EDGE certification provides valuable data and quantification of impact for sustainability reporting, contributing to Pillar 1 of ProCredit's EMS.
ProCredit Ukraine has been a pioneer in green finance in Ukraine since 2008, offering green loans for small and medium businesses.  As of December 2022, the bank's green portfolio accounts for 15.5% of its total loan portfolio.
Moving forward, ProCredit Ukraine will continue to promote green building practices and raise awareness in the region as the country rebuilds. Despite the uncertainties surrounding the war's duration and impact, the bank remains committed to offering sustainable financial solutions to its clients and contributing to a more sustainable future for Ukraine.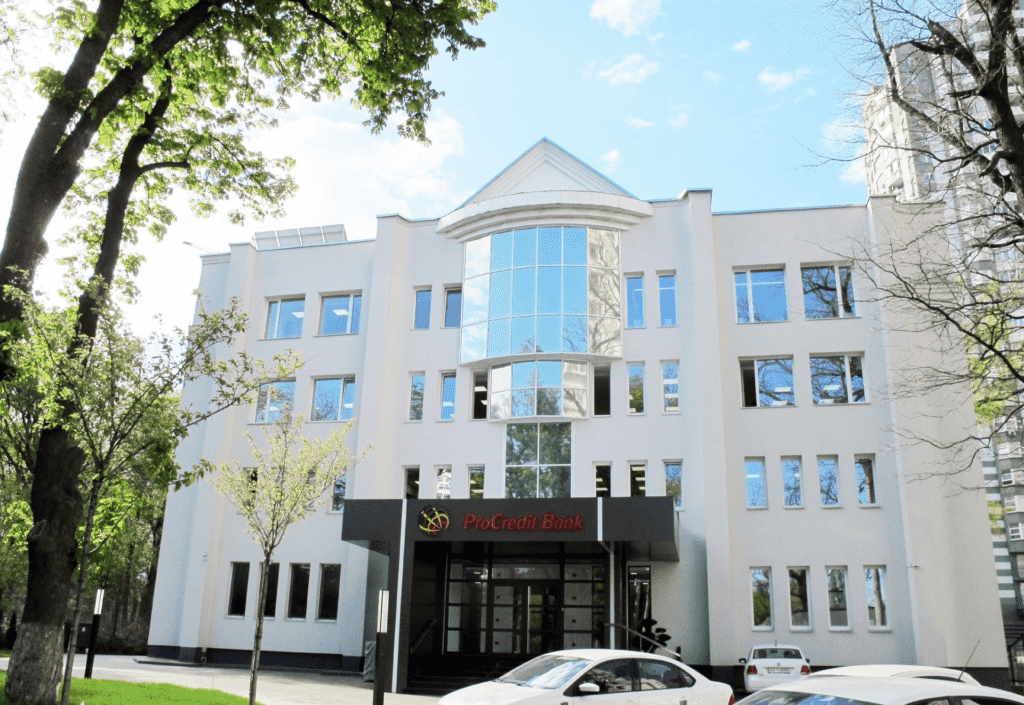 The ProCredit Ukraine Kyiv HQ after the retrofit
More Stories from EDGE.
Market transformation in action.
Interested in learning
more about EDGE?
Sign-Up for our Mailing Lists