Unlocking the Green Building Market for Banks with EDGE
By implementing green lending programs and leading by example through the certification of its own buildings, ProCredit is putting sustainability into action.
Eleni Polychroniadou
April 23, 2021
6-min read
The green building sector is compelling for the investment community. According to the International Finance Corporation (IFC), it represents a significant investment opportunity in emerging economies. Despite this, to date there has been a significant barrier to entry for investors, namely understanding how to quantify the environmental impact of a building and classify it as green.
This was true for ProCredit, an international group of development-oriented commercial banks mainly active in South Eastern and Eastern Europe and owned by the German parent company ProCredit Holding. ProCredit has been interested and engaged in financing green buildings for years, but has had to develop an individual assessment approach for each country. This approach has posed a serious challenge due to the substantial additional workload involved, coupled with the difficulty of obtaining relevant information.
The backstory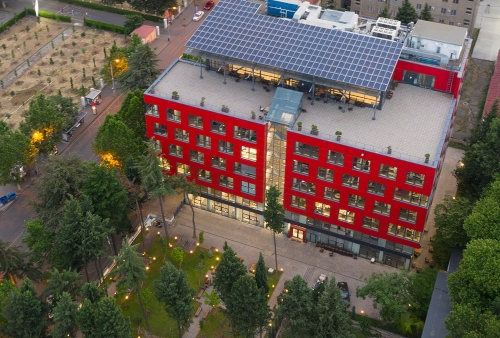 Working primarily in the small and medium-sized enterprise (SME) sector, ProCredit's remit is to enable its clients to invest in resource-efficient and environmentally sound practices.
Green finance makes up an important part of ProCredit's comprehensive environmental management system, which addresses both its internal and external environmental impacts. The group launched its first green loans in 2006 and gradually developed a green lending methodology and a green bonds framework to standardize its lending process and ensure specific environmental impacts are achieved. As of the end of 2020, the group's green loan portfolio amounted to almost EUR 1bn, representing 19% of its total loan portfolio. Until now, the group has assessed green buildings against country baselines and according to country building codes. The process is intensive and often difficult to implement, owing to a lack of data or proper regulation in its countries of operation.
EDGE as a tool to assess the eligibility of green buildings
The situation changed when ProCredit integrated EDGE into the environmental impact assessments carried out for the head offices of its banks, where the benefits of EDGE were apparent: user-friendly application, availability of data, the possibility of preliminary assessment, and recognized certification.
Therefore, ProCredit decided to promote this certification further in its markets by using it as a tool in the assessment process for green buildings. The banks can now use EDGE instead of conducting individual analyses for the purpose of assessing a building's eligibility for a green loan.
During the early stages of client discussions regarding a planned financial investment, ProCredit proposes conducting a preliminary assessment using the EDGE app to make an initial determination whether the project has potential for improved performance of 20% compared to the local baseline. This is done in partnership with Sintali-SGS, who offers EDGE Expert support through its partner network. EDGE Experts provide support in using the application and conducting initial analyses of ProCredit clients' projects.
This assessment is then submitted to the business committee of the bank for review and if approved, the client can benefit from preferential loan rates for the development of the green building project. A further requirement to be eligible for these loan rates is the actual completion of the EDGE certification process.
The use of EDGE data to define eligibility criteria enables the ProCredit banks to have a standardized and comparable approach across its markets, thus unlocking significant potential for building improvement and green finance. It also reduces the time required to conduct an initial eligibility analysis, as local baselines have already been calculated in the EDGE app.
To help incentivize the market and enable increased deployment of green buildings, ProCredit is also working with Sintali-SGS to provide discounts for the certification and audit of its clients. With this offer, ProCredit is hoping to bolster the green building market and help drive change in its markets, all the while supporting SMEs, which remains its core mission.
Leading by example
The work does not stop there for ProCredit. The group believes in leading by example. As such, the ProCredit group has committed to reaching carbon neutrality for its own operations by 2023. This commitment includes a variety of activities, from the procurement of renewable energy to improving the efficiency of its own buildings as certified through EDGE.
To date, the banking group has EDGE-certified head offices in North Macedonia, Bulgaria, and Georgia and is in the process of seeking certification for its head offices in Kosovo, Ecuador, Serbia and Ukraine. This effort speaks to the commitment of the environmental management of the group's own buildings, but also acts as proof of concept. In discussions with developers and clients regarding energy efficiency projects, the group can point to their own experiences and prove the business case for going green in practice.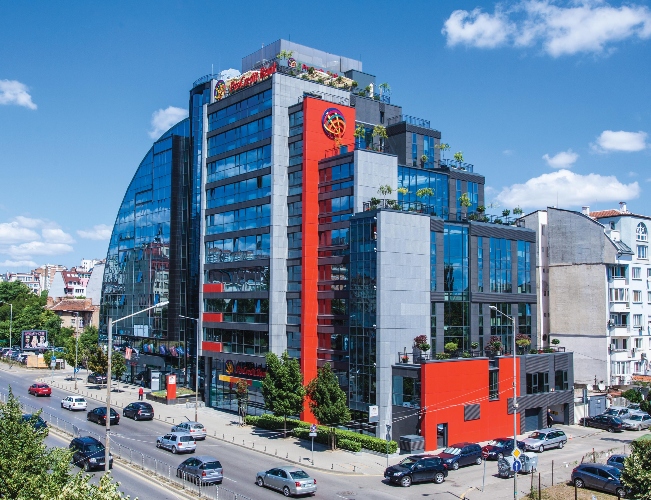 The ProCredit group is also showing what is possible by becoming the first organization in Europe to have been awarded an EDGE Zero Carbon certificate for the head office of ProCredit Bank in Sofia, Bulgaria. The transition to net zero carbon remains a top priority for Europe and the world. Only with this strong focus will it be possible to meet the climate goals set in the Paris Agreement. ProCredit has laid the foundation with the certification of its own building and hopes to transition more buildings to zero carbon across its building portfolio.
What's next?
By implementing green lending programs and leading by example through the certification of its own buildings, ProCredit is putting sustainability into action.
The financing of green buildings with EDGE certification is currently offered by the group in Ecuador, Kosovo and Georgia. In the coming years ProCredit is expecting to roll this offer out to the remaining banks in the group.
More Stories from EDGE.
Market transformation in action.
Interested in learning
more about EDGE?
Sign-Up for our Mailing Lists