Building Types: Education
Resource-efficient schools save communities precious revenue and resources while improving the student learning environment.
Green schools are valuable assets, invoking a sense of community pride. Students focus better and are more alert when classrooms are well-ventilated, temperate, and brightly lit. Teachers report more satisfaction from working in green schools, which lessens turnover. The savings from utility bills can be re-invested into strategies to improve scholastic achievement.
EDGE offers the opportunity to model a variety of education facilities, including pre-schools, K-12 schools, universities, cultural and community centers, and sports facilities. Within these prototypes, the models can be further refined to include playrooms and classrooms, computer and science labs, cafeterias, libraries, and locker rooms, to more accurately predict future operational performance.
Green schools shift the possibilities of environmentally-friendly buildings to include places of learning. They help students to become young ambassadors of environmental stewardship, offering the opportunity for experiential learning, including the benefits of sustainable design.
Take the first steps to designing a resource-efficient school with EDGE.
Building Type
Go to the EDGE App and select the Education building type.
Details
Select your country and city.
Location Data
Choose your type of educational facility and fill in the basic parameters.
Building Data
For the most accurate results, specify the breakdown of the various rooms of the facility.
Orientation
Indicate the building orientation.
Explore Energy Saving Measures
After completing the inputs on the Design tab, move on to the next step of selecting energy-saving measures.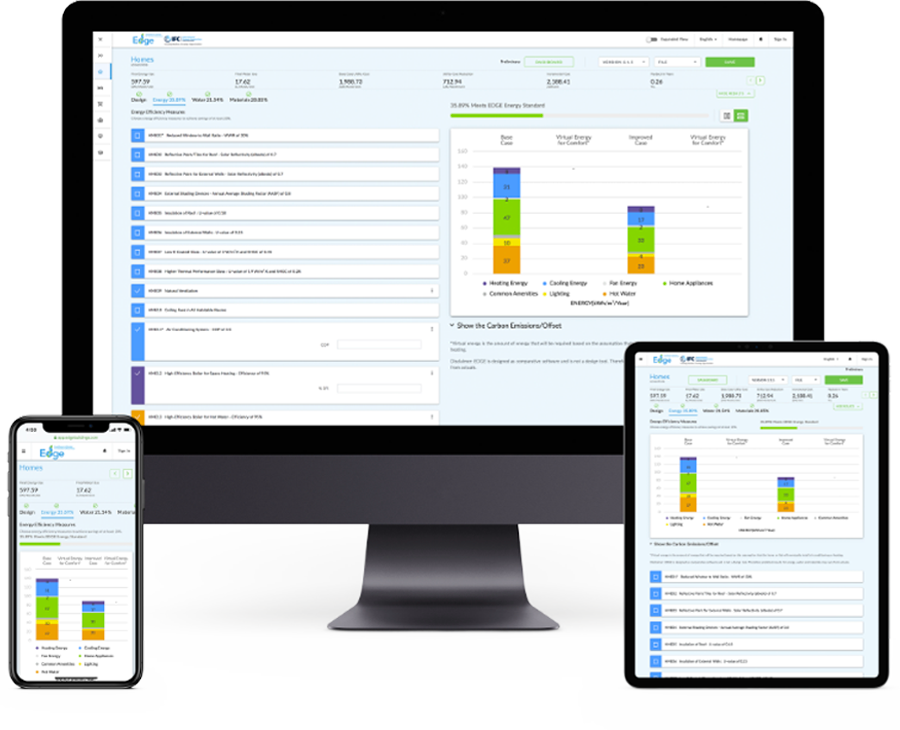 It takes less than 30 minutes to design a resource-efficient development of homes or an apartment building with EDGE. Determine the solutions that make the most sense at the least cost, keeping the preference of your customers in mind. EDGE has built-in climate data that is specific to where your properties are located, for the most accurate results. Go to the EDGE App to get started.
Discover another EDGE building type.
Choose from the list to the left.
Interested in learning
more about EDGE?
Sign-Up for our Mailing Lists