Building Types: Hospitals
At EDGE-certified hospitals, care is shown for patients and the planet.
Since hospitals operate 24/7 they consume 2.5 times the energy of an equivalent commercial building. But medical facilities can provide state-of-the-art treatment while minimizing energy and water use if the right decisions are made at the design stage. EDGE enables healthcare facilities to target those areas where technologies can  significantly reduce energy bills and help facility managers stay within tight budgets.
EDGE relies on the number of beds, floors and occupancy rates, as well as the size of operating rooms, intensive care units and diagnostic services, to create a base case model. Several types of medical facilities can be EDGE certified, including a public, private or multi-specialty hospital, an eye care or dental practice, or a clinic or diagnostic center.
The aim is to engineer a facility that provides the highest standards of healthcare without wasting resources. That is why for hospitals in emerging markets, EDGE is a wise decision to make.
Take the first steps to designing a resource-efficient hospital with EDGE.
Building Type
Go to the EDGE App and select the Hospitals building type.
Location Data
Select your country and city.
Parameters
Fill in the Basic Parameters, including the type of hospital.
Building Data
For the most accurate results, specify the dimensions of the hospital's layout.
Orientation
Indicate the building orientation.
Explore Energy Saving Measures
After completing the inputs on the Design tab, move on to the next step of selecting energy-saving measures.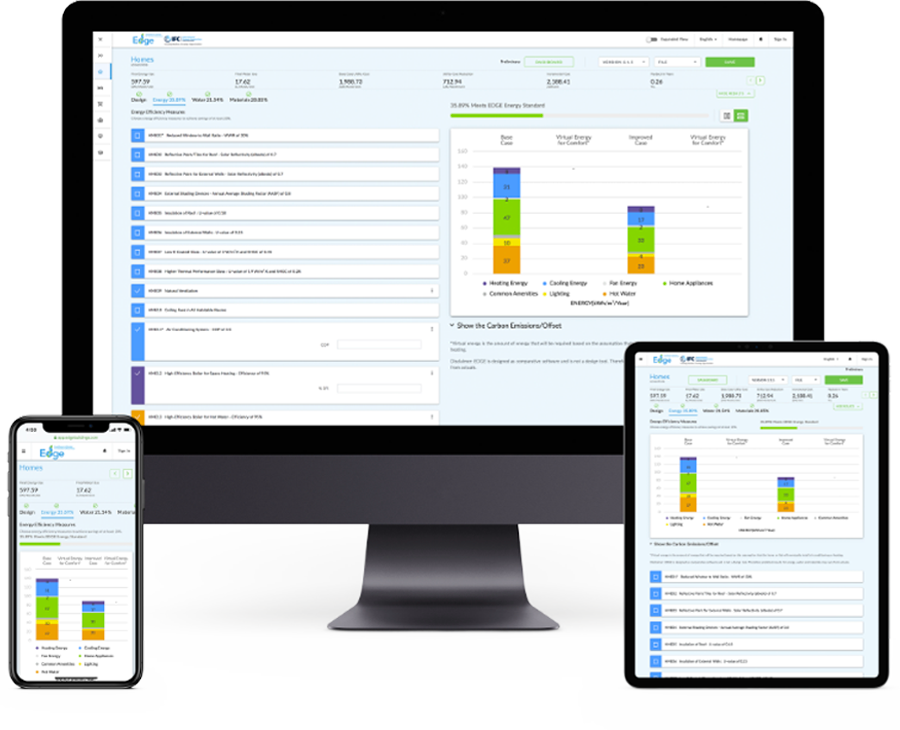 It takes less than 30 minutes to design a resource-efficient development of homes or an apartment building with EDGE. Determine the solutions that make the most sense at the least cost, keeping the preference of your customers in mind. EDGE has built-in climate data that is specific to where your properties are located, for the most accurate results. Go to the EDGE App to get started.
Discover another EDGE building type.
Choose from the list to the left.
Interested in learning
more about EDGE?
Sign-Up for our Mailing Lists