Building Types: Hospitality
For EDGE-certified hotels, sustainability sells.
"What is the energy and water intensity of your hotel? Is your hotel certified green by an internationally-recognized provider?" Today's corporate clients won't commit to staying at a hotel unless these questions are answered well.
By using the EDGE software at the design stage, a hotel developer already knows the numbers in order to respond to discerning guests. And by achieving EDGE certification, the developer has proof of going beyond self-regulation to become a truly resource-efficient enterprise.
Such factors as the hotel's star rating, the occupancy rate and whether there are laundry services all come into play when creating a base case model within EDGE.
This numeric approach to design is one that any corporate leader can understand – and what can be easily understood at the top can be rapidly set in motion. Simply put, sustainability means a better bottom line, as utilities savings of 20% or more can help hotel owners fight for that last 2% of profitability. That is why for hotels in emerging markets, EDGE is a tool for survival.
Take the first steps to designing a resource-efficient hotel, resort or serviced apartments with EDGE.
Building Type
Go to the EDGE App and select the Hospitality building type.
Location Data
Select your country and city.
Parameters
Fill in the Basic Parameters.
Building Data
For the most accurate results, specify the dimensions of the hotel's layout.
Building Systems
Indicate whether your hotel has air conditioning and/or space heating.
Explore Energy Saving Measures
After completing the inputs on the Design tab, move on to the next step of selecting energy-saving measures.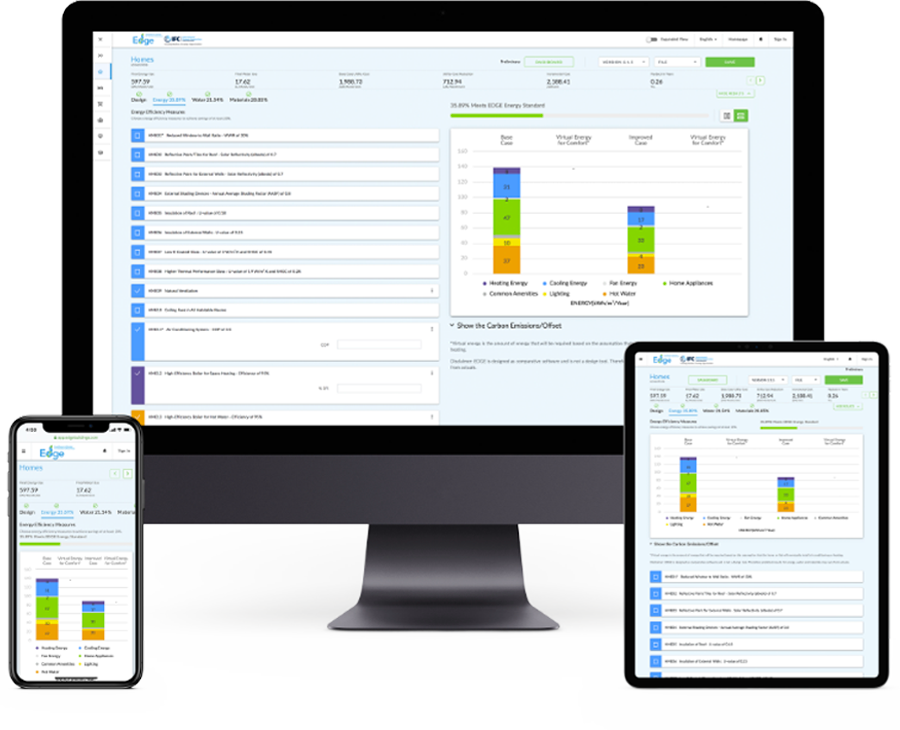 It takes less than 30 minutes to design a resource-efficient development of homes or an apartment building with EDGE. Determine the solutions that make the most sense at the least cost, keeping the preference of your customers in mind. EDGE has built-in climate data that is specific to where your properties are located, for the most accurate results. Go to the EDGE App to get started.
Discover another EDGE building type.
Choose from the list to the left.
Interested in learning
more about EDGE?
Sign-Up for our Mailing Lists